Lists
10 Awesome Aerial Photos of Mindanao: Part 3
This time, we appreciate the Philippines' Land of Promise from a different perspective, through the eyes of Mindanaoan aerial photographer Joseph Q. Gumia.
1) Hagonoy Island, Bislig, Surigao del Sur
Surigao del Sur boasts of tiny islands and islets that dot its seas. From small to big, inhabited to virgin; others disappear with the high tide, others linger on like a sandbar -- and all are beautiful.
2) Km.11 Sasa, Davao City to Babak, Island Garden City of Samal
Everyday, the passenger ferry makes its way back and forth from Davao City to Samal Island.
Some of the passengers are residents while others are vacationers who just want to laze in the beaches of Samal.
3) Malalag Bay, Davao del Sur
Much of the fish in Malalag's markets come from its fish cages in Malalag Bay.
VIEW: Explore more of Mindanao with the Choose Philippines Davao Map:
4) Maasim, Sarangani Province
When you go paragliding in Maasim, this is the sight that will take your breath away.
[VIEW: Paragliding in Sarangani: The Day I Flew & Dropped a Camera From the Sky]
5) Mt. Apo
Rising to 2,954 meters, Mt. Apo lords over the skies of Southern Philippines. First climbed in 1880, mountaineers now consider it as the ultimate climbing destination.
6) Mt. Matutum
Mt. Matutum is a volcano that last erupted in 1911. It rises to 2,286 meters in South Cotabato and is seen from the nearby provinces of Sarangani and Sultan Kudarat, and even as far as Kapatagan, Davao del Sur on a clear day.
7) Davao del Norte rice fields
As the staple food for most Filipinos, rice is planted in almost all regions of the Philippines. It creates beautiful patterns from the air, showing the different stages of its life, from the newly planted to the harvesting stage.
8) South Cotabato mountains
The ridges of the mountain ranges of South Cotabato change colors depending on the light and shadows of the clouds covering it and the vegetation.
VIEW: Explore more of Mindanao with the Choose Philippines GenSan Map:
9) South Cotabato rice fields
The golden harvest turns to brown when the plants are cut and tied.
10) Tugboat in Davao Gulf
Davao Gulf is a busy trade highway where tugboats transfer cargoes or direct traffic among ships.
VIEW: Part 1 of the 15 Awesome Aerial Photos of Mindanao.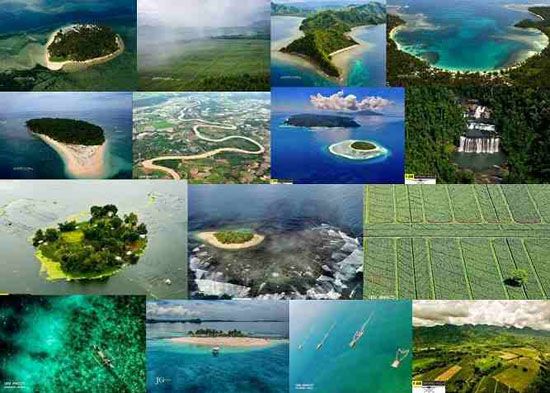 VIEW: Part 2 of the 15 Awesome Aerial Photos of Mindanao.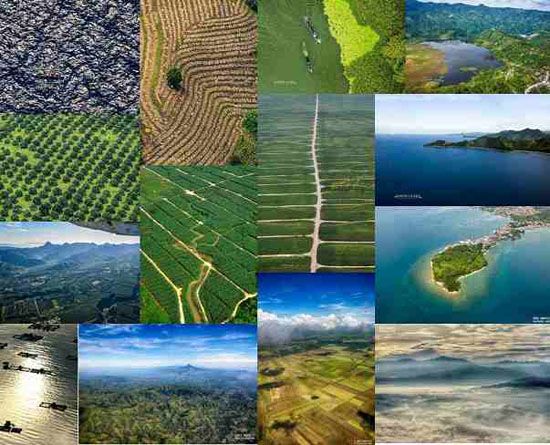 ---
VIEW: See what you can bring home from Mindanao with the Choose Philippines Pasalubong Guide:
Be a Pinoy Wanderer!
Choose Philippines encourages writers, photographers, travelers, bloggers, videographers and everyone with a heart for the Philippines to share their discoveries and travel stories.
Share Your Journey
Other Stories by Ida Damo