Lists
Your Dinagyang Festival Itinerary: An Easy Guide to Exploring Iloilo City
, Iloilo
---
Iloilo City is one of the major cities of southern Philippines. It's located on the southeastern shore of Panay Island. Despite being a progressive city, Iloilo remains a heritage capital, teeming with landmarks from the Spanish colonial era.
Iloilo's Dinagyang Festival is celebrated every fourth weekend of January. Its main highlights are the foot and fluvial procession, the Ati-ati Competition, and the religious "sadsad" or street dance. The street-dancing is characterized by frantic stomping of the feet to the hypnotic beat of drums.
Ideally, you'd be spending a week or more exploring the city and the province. But if you're on a tight schedule, you can follow this suggested itinerary:
Thursday or Friday
Fly to Iloilo to give you ample rest for the whole weekend of city sight-seeing & Dinagyang watching. If you can afford the time, fly on Thursday to give you enough time to visit nearby landmarks (such as the UNESCO World Heritage Site, Miag-ao Church) or even hop to Guimaras Island, which is a few minutes' boat ride from Iloilo City proper.
Take note that the closer you get to the Dinagyang culminating days, the more the airfare becomes expensive. So watch out for promo fares ahead, or book your tickets at least 3 months before the festival.
Saturday
Spend your whole Saturday visiting the landmarks, monuments, and Spanish colonial structures within the city (see the list below). At night, there are concerts and street parties to enliven your body, spend a great time with your friends, or try to befriend the beautiful and handsome locals.
Sunday
One word: Dinagyang! Spend the whole Sunday watching the Dinagyang Festival on the streets. You can party till you drop at the city's many nightlife spots, such as Smallville, but if you'll be catching a flight the next morning (Monday), better turn yourself in early.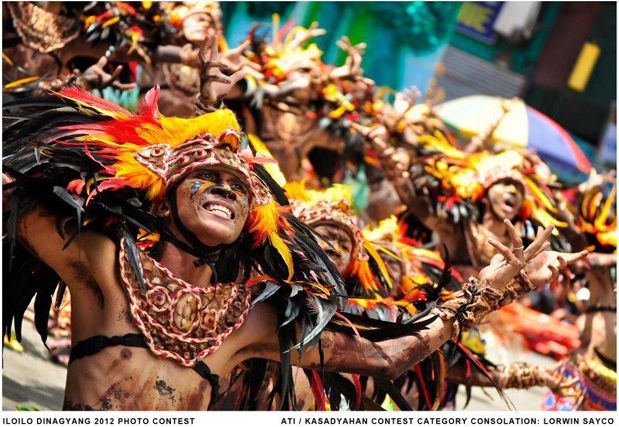 To fully enjoy your Dinagyang Festival experience, here are some suggestions for your trip:
Eat a steamy bowl of the original La Paz Batchoy. It is a pork noodle soup that could warm and fill your hungry tummy.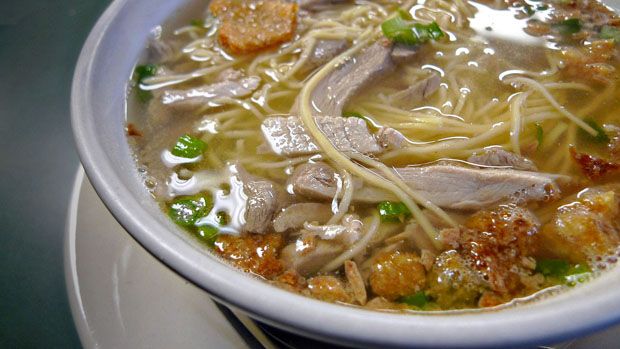 (Photo by Heidigutierrez from Wikipedia.)
VIEW: The Rockstar Among Filipino Soups: Batchoy
Drink a cup of "tsokolate" at the Camiña Balay nga Bato and get to sample how prominent Ilonggos lived centuries ago.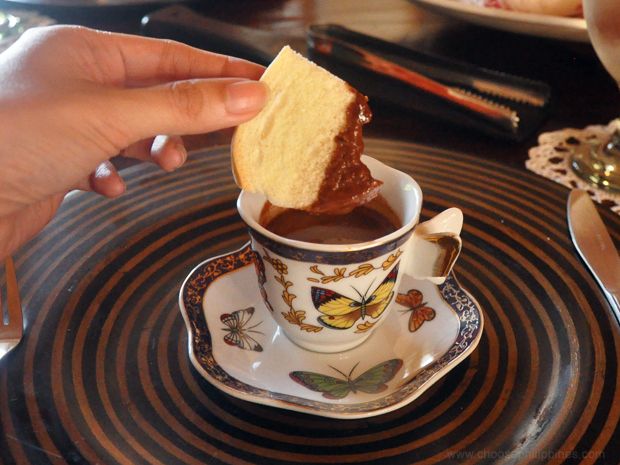 Try dipping your biscuit and it will take you to Chocolate Heaven!
VIEW: Hot Choco, Filipino-Style: A Cup of Heaven in Iloilo
Get lost at the historical landmarks and old churches of the City of Love. It's like traveling back during the Spanish colonial time. Like the Jaro Cathedral, Iloilo Esplanade, and Calle Real.
The Church of St. Elizabeth of Hungary commonly known as Jaro Cathedral.
VIEW: The Jaro Cathedral: One of Iloilo's Oldest
The Iloilo Esplanade at night.
VIEW: The Splendor of the Iloilo Esplanade
Built in 1922
VIEW: The Royal Street of Iloilo: Calle Real
St. Anne Parish Church, commonly known as Molo Church.
VIEW: Molo Church: A Rare Philippine Gothic Church
End your day with a flavorful bowl of molo soup.
VIEW: A Big Warm Bowl of Flavorful Molo
Molo Soup; photo from thefilipinofood.com.
The Dinagyang Festival 2015 schedule will be posted soon for your reference, but the dates are certain: it will culminate on January 23-25, 2015.
---
VIEW: Check what else to eat & see in the province with the Choose Philippines Iloilo Map:

How to Get There
From Manila, you can fly to Iloilo (estimated cost of PhP3,000++, round trip, one hour). You can also opt for a bus trip (estimated cost of PhP875++ per head, air-conditioned bus and boat fare, 17 hours plus).
Be a Pinoy Wanderer!
Choose Philippines encourages writers, photographers, travelers, bloggers, videographers and everyone with a heart for the Philippines to share their discoveries and travel stories.
Share Your Journey
Other Stories by Belle Piccio