Lists
Fly to Laoag: 10 Must do's in Ilocos Norte
Ilocos Norte
Ilocos Map: Laoag
Fly to Laoag
Cape Bojeador
Cape Bojeador
Kapurpurawan Rock
Kapurpurawan Rock
Bangui Windmills
Bangui Windmills
Batac Empanada
Batac Empanada
4x4 ride at Paoay Sand dunes
4x4 ride at Paoay Sand dunes
Paoay Church
Paoay Church
Paoay Sand dunes Art Installations
Paoay Sand dunes Art Installations
Ilocos Map: Laoag
Fly to Laoag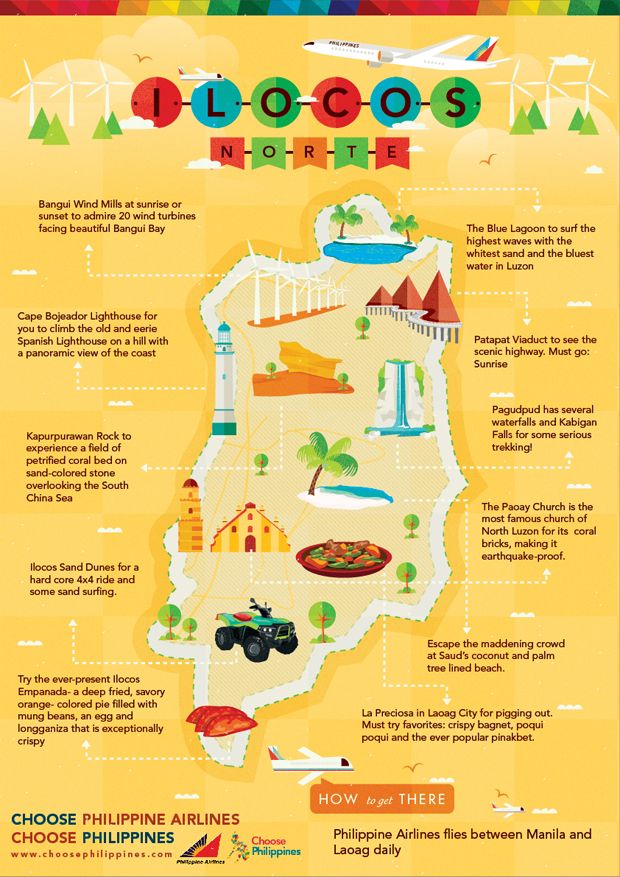 • 20 wind turbines arranged on a single row along Bangui Bay is truly a sight to behold. At first glance, the Bangui Windmills may transport you to a far off European country but you'll only need to feel the warm air and the view of beautiful Bangui Bay to remind you that you are still, indeed, in the Philippines. The windmill are larger than life, standing at over 200ft, which makes one wonder how these "giant electric fans" were assembled or transported in the bay. It is also important to note that the Bangui Windmills at Ilocos Norte is the first power generating windmill farm in Southeast Asia and the first source of clean energy introduced in the Philippines. The windmills that were meant to harness clean energy have also become a source of sustainable tourism in the province.
• Cape Bojeador Lighthouse can either be the most romantic or the eeriest backdrop you'll get to see in Burgos, Ilocos Norte. This lighthouse is one of few Spanish colonial lighthouses still in operation today. Make sure to climb all the way to the top to see the panoramic view of the West Philippine Sea coastline.
• Pagudpud is the northernmost settlement in Luzon. Famous for its virgin beaches, it is home to Blue Lagoon and Saud Beach. Blue Lagoon is once a secret cove now slowly gaining attention from international tourists. It is also filled with natural rock formations that have legends and stories of their origin. In Saud, escape the maddening crowd in its coconut and palm tree lined beach, which offers a more relaxing experience and some idyllic downtime.
• Rent a bike or a scooter and drive along the French Riviera of the North, the Patapat Viaduct. This elevated concrete highway that connects Ilocos Norte and Cagayan Valley region is a mix of scenic nature and modern infrastructure that blended beautifully together.
• Looking for an adventure while in Ilocos Norte? Put on your trekking gear, hire a guide and hit the trail to one of Pagudpud's waterfalls, the Kaibigan Falls. The trek will for sure be worth it once you take a dip in Kaibigan's cold pool.
• Stray off the beaten path and venture over Kapurpurawan Rock, a field of petrified coral bed to nature's version of Noah's Ark mounted on sand-colored stone overlooking the South China Sea. This rock formation created by the strong forces of the waters along the jagged coast of Burgos is a natural wonder and is visually delightful because of its scenic façade and uniqueness.
• Get ready to scream and surf! Now a favorite among 4x4 and sand boarding enthusiasts, the Ilocos sand dunes also has cinematic claims to fame: Hollywood films "Born on the Fourth of July" & "Mad Max" as well as local classics "Himala" & "Ang Panday" were all shot here.
• The Paoay Church (UNESCO World Heritage Site) is the most famous church of North Luzon is an impressive example of the classic baroque style and reputed to be "earthquake proof" by using coral bricks that were sealed with a combination of limestone mortar and sugar cane juice.
• Dine at La Preciosa, a charming old house in Laoag City with must try favorites: crispy bagnet (deep-fried pork belly), poqui poqui (egg, eggplant, tomatoes and onions) and the ever popular pinakbet (assorted vegetables sautéed in fermented fish paste).
• If you can, get the anise-enhanced biscocho at the Pasuquin Bakery and try the ever-present Ilocos Empanada- a deep fried, savory orange- colored pie filled with mungo beans, an egg and Batac longganisa (garlicky native sausage) that is exceptionally crispy.
To get there:
By Plane: Laoag is the gateway to Paoay, Ilocos Norte. Philippine Airlines flies between Manila and Laoag daily. Book your flights now at: http://www.philippineairlines.com For more information and assistance: Ilocos Norte Tourism Office Provincial Capitol +63-77-772-1211 loc 119 + 63-77-770-4242 www.ilocosnorte.gov.ph [email protected] [email protected]
---
You may view our other Choose Philippines maps for your future trips:
AKLAN http://www.choosephilippines.com/specials/lists/1077/aklan-white-sands-wild-streetdancing/
DAVAO http://www.choosephilippines.com/specials/lists/929/davao-city-treasures-pleasures-islands-highlands/
ILOILO http://www.choosephilippines.com/specials/lists/792/pal-iloilo/
BACOLOD http://www.choosephilippines.com/specials/lists/352/15-reasons-bacolod-city/
GENERAL SANTOS http://www.choosephilippines.com/specials/lists/356/home-of-the-generals-general-santos-city/
CEBU http://www.choosephilippines.com/specials/lists/425/cebu-pal/
Be a Pinoy Wanderer!
Choose Philippines encourages writers, photographers, travelers, bloggers, videographers and everyone with a heart for the Philippines to share their discoveries and travel stories.
Share Your Journey
Other Stories by Philippine Airlines