Lists
Cebu: The Lechon Capital of the World
Cebu
Cebu is one of the oldest towns in the Philippines. With a rich historical past, Cebu's history goes way beyond 439 years ago when the island became a province at the start of the Spanish colonization. If you're a History junkie this claim is evident when you visit its heritage sights such as old churches and ancestral houses, tourist attractions like the Magellan's cross and Lapu-lapu shrine, and the city proper itself.
Cebu celebrates its annual Sinulog Festival with colorful parades and street parties in honor of the miraculous image of the Santo Niño. A not to be missed event in the Philippines every month of January! Pit Senyor!
Cebu is the home of the best lechon makers and purveyors of the Philippines. In every grand occasion, the star and the center piece of Filipino buffets is lechon. The word "lechon" came from the Spanish term that refers to a roasted suckling pig. Lechon is a skewered whole pig roasted over charcoal, a popular dish in the Philippines.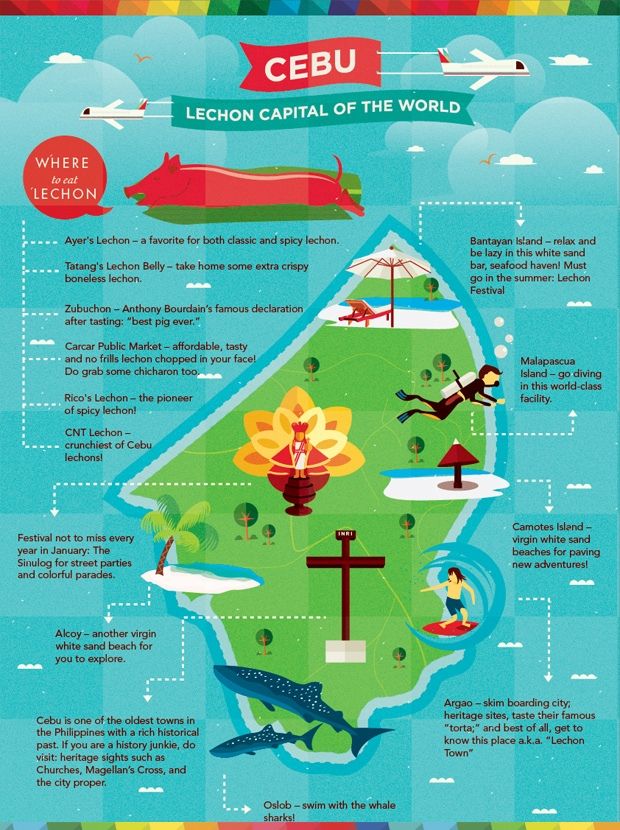 Where to Eat Lechon
The production of lechon is a thriving business in Cebu. There are many famous Cebu lechons but we have narrowed it down to the top choices of Choose Philippines' editors and travel insiders. Here's a list, in no particular order, where you can find the best lechons of Cebu: (Please take note that prices may subject to change without prior notice).
1) Rico's Lechon* – the pioneer of spicy lechon!
Rico's lechon is not your traditional roasted pig. Try the spicy lechon, their bestseller! It uses garlic, leeks and a secret ingredient that awakens all the nerve endings of your taste buds.
Prices vary from Php2,000 to Php7,000 depending on the size and availability of your order. They also sell "per kilo" every Sunday at Php470. Extra charges will be added for delivery and for shipment outside Cebu.
Rico's Lechon is located at Highway 77, Talamban, Cebu City, Cebu, 6000. For orders you can contact them at (032) 344-0119 or 345-5688 and (+63) 915-703-3964 or 0908-606-9641.
2) CnT Lechon – crunchiest of Cebu lechons!
Ask your hotel or resort receptionist and even a cab driver, CnT Lechon is the first lechon place being recommended to tourists and locals. It is meaty, less fatty, juicy and cheaper without sacrificing the taste.
The price of lechon ranges between Php2,800 to Php4,500 depending on the size of your whole roasted pig but you can order it per kilo at any day of the week for only Php320.
CnT Lechon has several branches all over Cebu. Its most visited branch is located at 1377 V. Rama Ave., Guadalupe, Cebu City, Cebu. You can contact them at (032) 254-4249 or 254-6641 for inquiries and reservations.
3) Carcar Public Market – affordable, tasty and no frills lechon chopped in your face! Do grab some chicharon too!
Carcar is about an hour drive south of Cebu City. It is not only known for chicharon but also for their best tasting lechon. The skin is crispy while its meat is tender, juicy and flavorful which is consistent with any size of the lechon.
You find a number of lechon stalls in Carcar Public Market at the "Inasalan" section. The price of lechon is about Php280 per kilo and is sold daily. Some stalls also accept orders for whole lechon, price is between Php3,000 to Php5,000.
Here are some of the lechon vendors that you can contact in Carcar:
Bebie's Lechon at 487-5501 or 487-5603 and (+63) 927-799-8088
Cesar's Lechon at 487-7378 and (+63) 926-706-3076
Guiling's Lechon at (+63) 909-294-2241 or 0910-592-9402
4) Cebu's Ayer Lechon – a favorite for both classic and spicy lechon
Cebu's Ayer lechon is known for its crispy and tender juicy native roasted pig. It markets the taste of the true Cebuano lechon.
Prices vary from Php3,200 to Php6,000 depending on the size and availability of your order. They also sell boneless lechon. Extra charges will be added for delivery and freight shipment for orders in Manila.
Its main office is located at Gate 777 across Cebu Country Club, Banilad Road, Apas, Cebu City, Cebu. There are already several branches of Ayer Lechon, 2 of the branches is at I2 Asiatown I.T. Park and at Mactan International Airport. For orders you can contact them at (032) 231-7615 or 268-0327 and (+63) 922-826-8133 or 0922-826-8132.
5) Tatang's Lechon Belly – take home some extra crispy boneless lechon
Instead of the regular looking lechon that we are all familiar with, Tatang's lechon is boneless. That means… it's minus the head and limbs, torso is deboned, rolled and is covered again with its skin. It's all meat! No bones!
Tatang's also offers a Php70- value meal where you'll have a 100 grams lechon, 2 pieces puso (hanging rice) and soft drinks. They also have lechon wrapped in a special kind of bread with hoi sin sauce for only Php65 and lechon flakes for only Php80. Regular lechon is sold per kilo at Php420 and spicy lechon is at Php430 per kilo.
Tatang's is located at A.S. Fortuna St., Corner Hernan Cortes, Mandaue City, Cebu, 6000. Contact them at (032) 406-3873 for orders.
6) Zubuchon – Anthony Bourdain's famous declaration after tasting: "Best pig ever!"
Zubuchon is coined from 2 words: "Zubu" which is Cebu's name in old Spanish maps and "lechon". There's no MSG nor soysauce in its ingredients, the lechon is stuffed with herbs and spices, skin is acupunctured and sprayed with fresh coconut water and roasted to a crisp until brown skin.
Its price starts at Php3,500 and goes as much as Php7,200 depending on the size and where you want your order delivered (as far as Manila).
There are already several Zubuchon all over Cebu and its main branch is located at 2651 Villalon Drive, Capitol Site, Cebu City, Cebu, 6000. Call Zubuchon's main office at (032) 236-5264 or 254-7342 for reservations.
Not only lechon! But you can also enjoy Cebu by experiencing its lively nightlife, tasting its delectable local cuisines and visiting its famous nearby towns and islets.
Check out the suggested list of Choose Philippines' editors and travel insiders.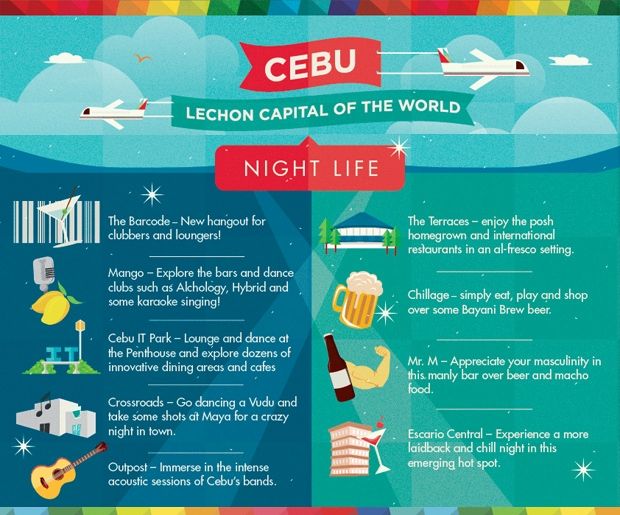 Nightlife
1) The Barcode – new hangout for clubbers and loungers!
Located at M. Cuenco Avenue Banilad, Cebu City, Cebu 6000, it is open daily from 7:00pm to 6:00am. You can contact The Barcode at (+63) 927-223-8766 for table reservations.
2) Mango – explore the bars and dance clubs such as Alchology, Hybrid and some karaoke singing!
Parties generally start at around 10:00pm and ends at the wee hours in the morning or up to 6:00am. Popularly known as "Mango Avenue", General Maxilom Avenue is situated near Fuente Osmeña and Jones Avenue.
3) Cebu I.T. Park – lounge and dance at the Penthouse and explore dozens of innovative dining areas and cafes
Formerly known as Asiatown IT Park, this part of Cebu never sleeps! The BPO hub of Cebu! Restaurants and cafes are open daily. The Penthouse Cebu, one of the country's premier clubs, opens from 10:00pm to 5:00am every Friday and Sunday.
4) Crossroads – go dancing at Club VUDU and take some shots at Maya for a crazy night in town
Another place for Cebu night life intersects at the Crossroads Mall in Banilad, Cebu City, Cebu. A metered taxi from Fuente Osmeña Circle will cost you at about Php80. Crossroads Cebu is where you'll find high-class and international restobars and dressy party clubs like VUDU. Party starts from 9:00pm onwards, every Thursday to Saturday.
5) The Outpost – immerse in the intense acoustic session of Cebu's bands
For those who loves good food, great music and good vibes! "Feel at home" and just come as you are, it's a place with no dress codes. Located at 976-A Veterans' Drive, Nivel Hills, Lahug, Cebu City, Cebu 6000, Outpost is open Tuesdays thru Sundays from 6:00pm to 2:00am. For inquiries call (032) 417-2088 or 417-2929.
6) The Terraces – enjoy the posh homegrown and international restaurants in an al-fresco setting
With cool ambiance, a well-landscaped garden and calming fountains, The Terraces is a perfect place to unwind. You'll find posh, classy coffee shops and must-try restaurants all in one place. A foodie haven! The Terraces is located at Ayala Center Cebu, Archbishop Reyes Avenue, Cebu Business Park, Cebu City, Cebu 6000.
7) Escario Central _ – experience a more laidback and chill night in this emerging hotspot_
It is a fresh and vibrant commercial strip mall brought to life in its architecturally refined features and bright colors that stand in strong contrast against the traditional image of the Escario business district. It is a new hang out place for guests. Located at N. Escario St., Kamputhaw, Cebu City, Cebu 6000. You can contact them at (032) 255-8822.
8) Mr. M – appreciate your masculinity in this manly bar over beer and macho food
A popular barbecue joint and also known for its beer and good food, Mr. M is open daily. It is located at Panagdait, Mabolo, Cebu City, Cebu 6000. Contact them at (032) 513-6676 for advance orders and bookings.
9) The Chillage – simply eat, play and shop over some Bayani Brew beer
A fusion place where you can shop, eat and play! Open Mondays thru Saturdays at 10:00am to 10:00pm. The Chillage is located at G/F Adnaman Bldg., Larrazabal Ave., North Reclamation, Mandaue City, Cebu 6014. You can contact them at (032) 238-5325 or (+63) 999.883.0366.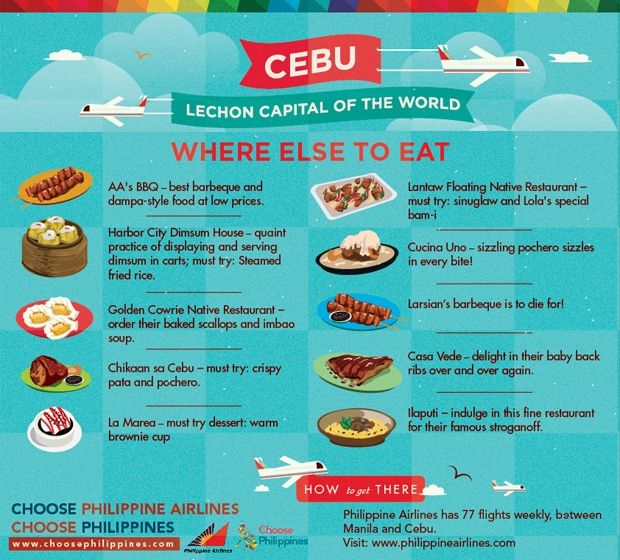 Where Else to Eat
1) AA's BBQ – best barbecue and dampa-style food at low prices
AA is legendary for its barbecue! It has award winning ribs, chicken and fish dishes. You can find them at A.S. Fortuna St., Brgy. Banilad, Mandaue City, Cebu.
2) Harbor City Dimsum House – quaint practice of displaying and serving dimsum in carts… Must Try: steamed fried rice
Open daily from 10:00am to 9:00pm. It is located at the Lower Ground Floor, SM City Cebu, North Reclamation Area, Cebu City 6000. For inquiries call (032) 232-0741.
3) Golden Cowrie Native Restaurant – order their baked scallops and imbao soup
Golden Cowrie Native Restaurant anchors its beliefs in the family where dining should be most enjoyable and highly nourishing. It embodies modern Filipino dining serving quality native cuisine at affordable prices. It has already established several branches across metropolitan Cebu.
4) Chikaan sa Cebu – Must Try: crispy pata and pochero
Chika-an is a restaurant featuring Cebuano cuisine. With an ambiance of an old Filipino home, it has built a tradition of great tasting Filipino dishes developed to perfection. One of their branches is located at Salinas Drive, Lahug, Cebu. You can contact them at (032) 233-0350.
5) Lantaw Floating Native Restaurant – Must Try: sinuglaw and Lola's special bam-i
Lantaw Floating Native Restaurant is an open structured floating restaurant to keep sea breeze and the scent of saltwater as the natural ambiance for guests and customers. Fresh fish is the order of the day with a number of mouthwatering native Filipino dishes. Located at Day-as Cordova, Mactan, Cebu, it is open daily at 10:00am to 10:00pm. For reservations you can call them at (032) 514-2959 and (+63) 923-652-2270 or 0999-850-2707.
6) Kusina Uno – sizzling pochero sizzles in every bite!
It's not the ambiance why patrons keep coming back but it's for the "pochero", Kusina Uno's signature dish. An order of this soup is worth Php385. If it's your first time at the restaurant, don't be shy to ask the waiters what their bestsellers are. Kusina Uno is located at the 2nd Floor of GND Complex F. Cabahug St. Mabolo, Cebu City, cebu and is open 24 hours. You can contact the Home of the Best Pochero at (032) 238-5283 for reservations.
7) Larsian sa Fuente – barbecue to die for!
Larsian is a place where people go to experience the best barbecue of Cebu. Don't expect fancy restaurants but a strip of small eateries where different vendors sell barbecues! It is located at Fuente Osmeña, Cebu City, Cebu 6000.
8) Casa Verde – delight in their baby back ribs over and over again
Casa Verde is a chain of family-owned restaurants in Cebu City. Enjoy great food and quality service at reasonable prices. It's casual dining at its best! Try their best-selling ribs, mouthwatering steaks, sumptuous pasta and sinful desserts. Casa Verde's main branch is located at 69 Lim Tian Teng St. (formerly V. Ranudo), Ramos, Cebu 6000. It is open daily from 10:00am to 10:00pm. For reservations, call (032) 253-6472 or 233-8885 or 412-3336.
9) Ilaputi – indulge in this fine restaurant for their famous stroganoff
Ilaputi is an Asian Soul Food. It guarantees to elevate your overall dining experience through its unique fusion of dishes and culinary adventure. Drop by and drink up, a best place to chill out with your friends. Ilaputi is located at I1 Bldg., Asiatown IT Park, Lahug, Cebu City, Cebu 6000. It is open daily. Call (032) 231-6016 or 412-2744 and (+63) 918-212-1212 or 0916-212-1212 for reservations or delivery.
10) La Marea – Must Try Dessert: warm brownie cup
The premier dessert place in Cebu! It serves an affordable array of imaginative cakes and pastries. You can visit one of their branches at IT Park, Lahug, Cebu City, Cebu 6000. La Marea is open daily from 9:00am to 12:00am, contact them at (032) 412-2919 for inquiries or reservations.
What to Do
1) Bantayan Island – relax and be lazy in this white sand bar, seafood haven! Must Go: Palawod Festival and Semana Santa sa Bantayan
The Semana Santa sa Bantayan is the world-renowned Holy Week observance in Bantayan and has attracted crowds of both local and foreign tourists. Life-size images and icons are mounted on decorated carrozas that depict various tableaus of the Passion of Christ, a solemn foot procession which happens on Maunday Thursday and Good Friday.
Palawod Festival is held every June 29. It is an annual fiesta in honor of Saints Peter and Paul.
2) Malapascua Island – go diving in this world-class facility
Malapascua Island is located in the northern tip of Cebu. It is one of the best diving destinations of the Philippines. You'll find thresher sharks, giant manta rays and a best place for big fish encounters.
3) Oslob – swim with the whale sharks!
The famous whale shark watching is a 10-km drive from the main town of Oslob located at Brgy. Tan-awan. The Butanding Watching is between 6:00am to 1:00pm. Whale watching fee is at Php300 per head, whale watching with snorkeling is Php500 per head for locals while Php1,000 per head for foreigners. An additional of Php100 for snorkel rental if you haven't brought your own, photography is allowed but with no flash. Go for the certified blue colored operators for your best butanding watching experience.
4) Camotes Island – virgin white sand beaches for paving new adventures!
You can best experience island through its pristine crystal clear water, sugary white sand and the spectacular sunset view. Get close with nature and be amazed of the natural beauty of Lake Danao, get fascinated with its sugar-white beach and frolic at the seashore, check out the intricate stairways of Western Poblacion, go spelunking at its amazing caves for adventure seekers and take a shower at its majestic waterfalls.
5) Argao – the home to the best torta in Cebu!
Argao has a lot to offer! Take an adventure trek to discover the Bugasok Falls, visit the rice terraces of Linut-od and Butong, the mystic mountains, and the Balay sa Agta Cave known as one of the largest Cebu cave systems. Enjoy Argao with simple activities like walking, jogging, skim boarding, hiking and even plain sight-seeing. Don't forget to taste the town's torta! Daily bus trips from the Cebu South Terminal to the Municipality of Argao are available every 30 minutes until 10:00pm; travel time takes approximately 1.5 hours.
6) Alcoy – another virgin white sand beach for you to explore
Explore the town's public beaches with crystal clear blue waters and sparkling white sands. The Municipality of Alcoy can be reached in about 2 hours from Cebu City. You can take a ride from Cebu South Bus Terminal.
How to Get There
From Manila, you can fly to Cebu (estimated cost of Php3,000++, round trip, 45 minutes).
Philippine Airlines has 77 flights weekly between Manila and Cebu. Book your flight to Tagbilaran via Philippine Airlines, your home in the sky!
Special thanks to Libotero for helping us plot the Cebu Map.
---
You may view our other Choose Philippines maps for your future trips:
AKLAN http://www.choosephilippines.com/specials/lists/1077/aklan-white-sands-wild-streetdancing/
DAVAO http://www.choosephilippines.com/specials/lists/929/davao-city-treasures-pleasures-islands-highlands/
ILOILO http://www.choosephilippines.com/specials/lists/792/pal-iloilo/
BACOLOD http://www.choosephilippines.com/specials/lists/352/15-reasons-bacolod-city/
ILOCOS NORTE http://www.choosephilippines.com/specials/lists/339/10-Must-dos-in-Ilocos-Norte/
GENERAL SANTOS http://www.choosephilippines.com/specials/lists/356/home-of-the-generals-general-santos-city/
Be a Pinoy Wanderer!
Choose Philippines encourages writers, photographers, travelers, bloggers, videographers and everyone with a heart for the Philippines to share their discoveries and travel stories.
Share Your Journey
Other Stories by Philippine Airlines