Hotels
Asia Pacific's Hottest Diving Destinations
Blessed with warm water, tropical climates and an abundance of interesting dive sites – from pristine coral reefs to sunken warships – locations throughout Asia Pacific welcome divers from around the world that come to explore new sites or return to old favorites.
"Many of the world's best dive sites are located in Southeast Asia," says Chris Mitchell, dive journalist and co-author of Thailand's Underwater World. "There are an endless number of sites for all levels of diver. Bali's amazing Menjangan Island, the plethora of rare marine life along the coastline of Anilao, Philippines, and the Maldives, where you can be in your resort an hour after touchdown and diving the next morning, are some of my favorites."
In addition to this, most diving locations in Asia offer PADI courses from beginner to master levels at great prices, and the food, scenery and cultural experience can't be beat, no matter which country you visit. To wrap everything up nicely, Agoda.com's comprehensive hotel offerings throughout the region will ensure guests spend less time worrying about their accommodation and more time concentrating on where to take the next great dive.
One of the Asia's best sites for diving is found in the Philippines.
Puerto Galera and Batangas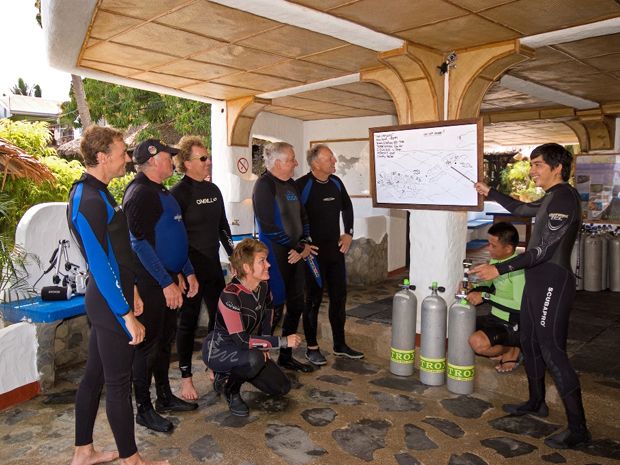 Atlantis Dive Resort
The turquoise water and endless reefs have long drawn divers to the tropical archipelago of the Philippines, which offers a nearly limitless number of sights above and below the water. A strong maritime transport culture ensures easy trips to many of the best sites, be it a small group excursion or a large party dive.
Some hotel suggestions to maximize the enjoyment of your trip:
The Atlantis Dive Resort in Puerto Galera lies within a pristine UNESCO Biosphere Reserve and offers a diverse range of reef dive sites for every skill level.
Guests say: "Overall I had a great time, the staff in the dive center were fantastic." – Sharla, UK
If staying at the Eagle Point Resort, you'll be in the middle of some of the Philippines' best dive sites, all noted for their abundant, colorful marine life.
Guests say: "Fantastic. I stayed for 3 nights. Captured the beautiful sunset both at the restaurant and at the balcony in our room. It was so relaxing, no stress at all." – Mary, Norway
To connect with Agoda.com for special deals on hotels worldwide, please visit our website at www.agoda.com. Like us on Facebook at www.facebook.com/agoda or follow us on Google+ at http://plus.google.com/+agoda
Be a Pinoy Wanderer!
Choose Philippines encourages writers, photographers, travelers, bloggers, videographers and everyone with a heart for the Philippines to share their discoveries and travel stories.
Share Your Journey