Relaxation and Wellness
Boracay Hotel Offers Romance Packages For The LGBT Community
Aklan
We celebrated Sebastien's birthday being spoilt rotten at the exquisite gay-friendly Mandala Spa and Resort Villas during our stay on Boracay island in the Philippines, and oh boy what a treat this was!
Mandala Spa and Resort Villas is an oasis of relaxation hidden away from the busy and touristy area of Station 2. You enter the grounds and it's like you've been transported to a whole new world.
We started our whole day relaxation in a bathtub with plumeria flowers located in our garden villa. Where else in the world are you welcomed with a bath of flowers?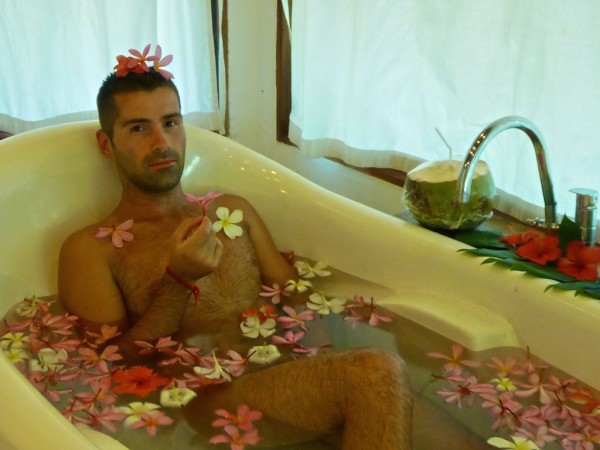 THOSE GARDEN VILLAS
The garden villas are huge with private balcony, garden and even their own wine cellar. Each villa also has a flat screen TV and MP3 station playing atmospheric music to help generate a sense of calm and peace.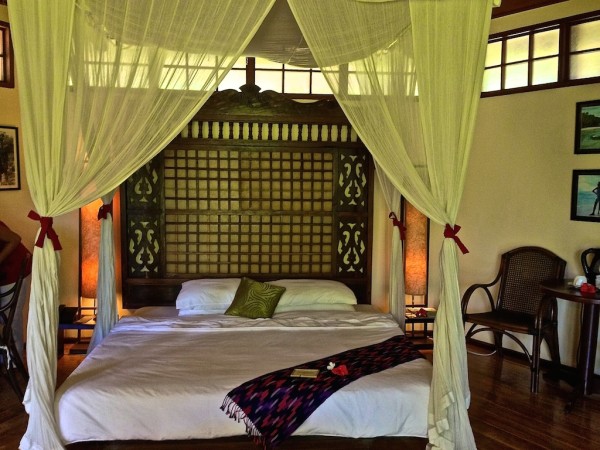 The bathroom was clean, beautifully decorated with fresh roses and a lovely bathtub. It also has its own attached outdoor (private) rain shower.
It really was like being in our own peaceful and serene, paradise like oasis.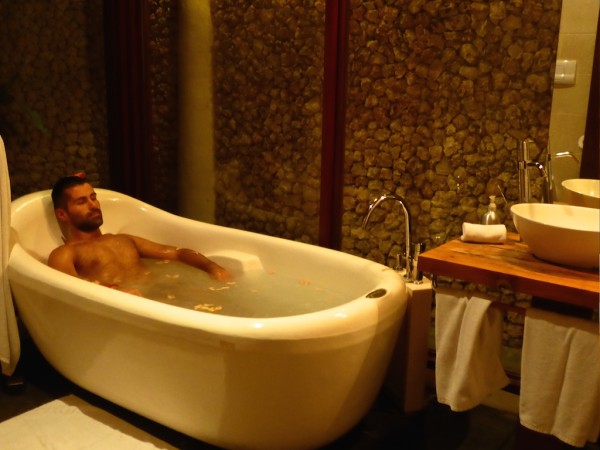 INDULGING YOURSELF AT MANDALA
Mandala Spa offers romance packages for the LGBT community aimed at relaxation and rejuvenation in a romantic setting.
The massages were one of the best we experienced in the Philippines. As fitness enthusiasts, we are extremely conscious of the effect of our 14kg backpacks on our backs. The massages were perfect for this, not to mention for relaxation: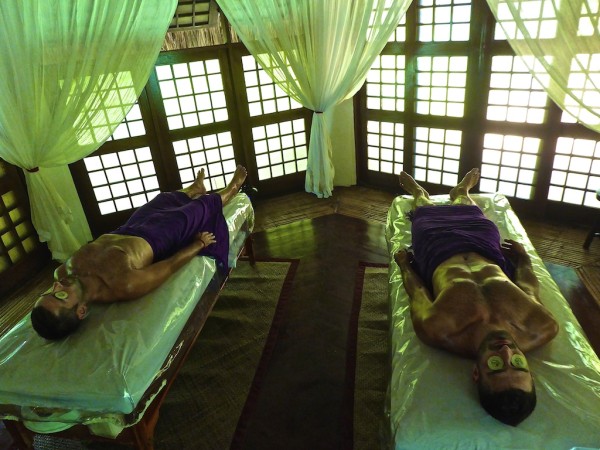 Our package also included a variety of hand and feet treatments, perfect for spoiling the birthday boy.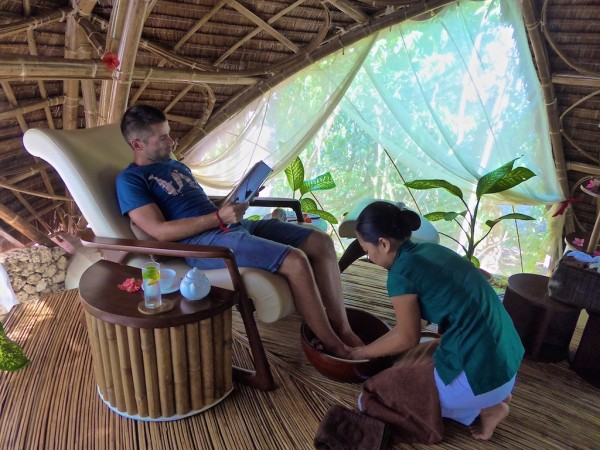 YOGA, JAZZ AND POLE DANCING ACTIVITIES AT MANDALA
Our favourite activities offered during our stay at Mandala Spa were the classes.
There were yoga classes every morning before breakfast, which make an excellent start to the day. We also had a jazz dancing class. We've never done jazz dancing before but absolutely loved it.
And if that wasn't enough, we also had the opportunity to dance like Pros in a pole dancing class (But the term pro stands for something else according to our teacher who is trying to be funny.)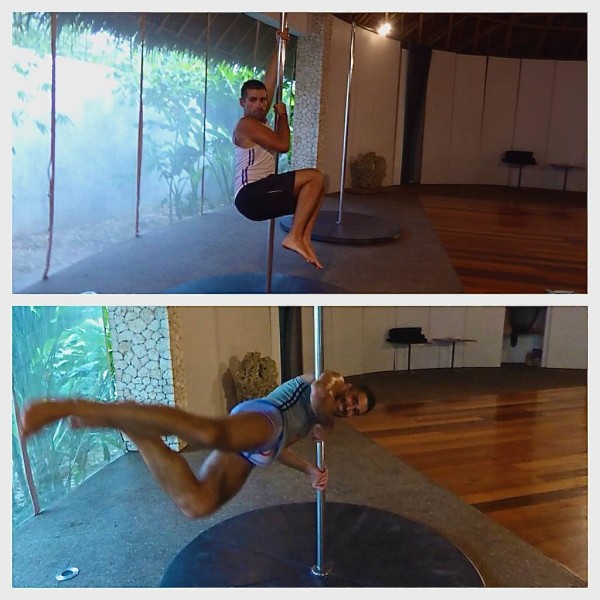 THE RESTAURANT AT MANDALA SPA
The Mandala Spa has its own kitchen and restaurant, set right in the heart of the grounds. It really is a remarkable place to eat in because you are surrounded by the jungle like environment, and with no sound but the birds' cheerful chirping.
Their menu includes a variety of healthy and affordable options and breakfast is included if you book one of their packages.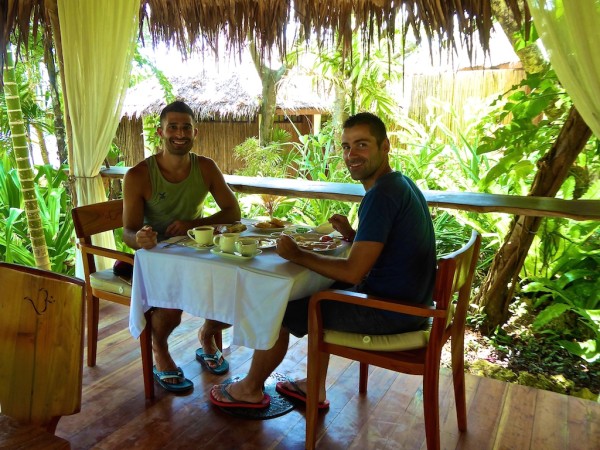 We really enjoyed our stay at the Mandala Spa. It was the perfect way to celebrate Sebastien's birthday.
If you're looking for a luxurious and gay-friendly treat in Boracay, we wholeheartedly recommend booking a package at Mandala Spa. Check their Tripadvisor page (Mandala Spa) for more reviews and info on booking. Also, check out our gay guide to Boracay to help you plan your holiday here.
You can watch more from our adventures in the Philippines in our travel video:
---
Read related stories:
Fulfill Your Wanderlust: 10 Travel Moments That Are Captured Beautifully
In Less Than 2,000 Pesos, Explore 7 Beaches As Beautiful As Boracay
Flower Island: A Hidden Gem in Palawan
Be a Pinoy Wanderer!
Choose Philippines encourages writers, photographers, travelers, bloggers, videographers and everyone with a heart for the Philippines to share their discoveries and travel stories.
Share Your Journey
Other Stories by Stefan Arestis