Relaxation and Wellness
The New Philippine Airlines International Mabuhay Lounge
Metro Manila
The Sitting Area
The Sitting Area
Officially opening the lounge!
Officially opening the lounge!
PAL SVP- Airline Ops Ismael Augusto Gozon
PAL SVP- Airline Ops Ismael Augusto Gozon
PAL Express Head Inigo Zobel with Head of RNG News Charie Villa
PAL Express Head Inigo Zobel with Head of RNG News Charie Villa
Dine all you want
Dine all you want
The famous ham
The famous ham
Media
Minutes before the unveiling...
PAL president and chief operating officer Ramon S. Ang said, "This new Mabuhay Lounge is just one of many improvements we are working on at Philippine Airlines. With this new lounge, we are keeping in step with the world's leading and best airlines. We offer our valued passengers a pleasant experience, marked by warm and hospitable service, and high-quality amenities and features. This is our way of extending to our customers the brand of service PAL has been known for, before they even board their flights."
About the Designer
Designed by Warren Foster-Brown from FBEYE International, a Singapore-based company focused on hospitality interior design which he founded
Diverse portfolio includes luxurious hotels, unique destination resorts, celebrity restaurants, spas, private residences, mega yachts and commercial offices
In 2009, Warren won the prestigious award "Wave of the Future 2009" in Miami, Florida.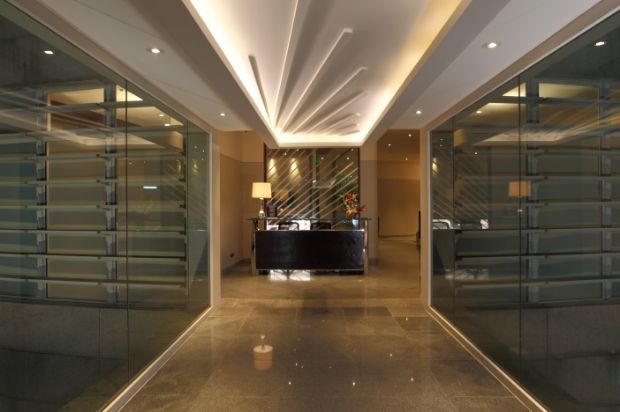 The New Lounge Design
520 square meters
It is a combination of different lounges around the world.
The new look and feel of the lounge coincides with PAL's growth strategy.
"What you expect in the sky, you can expect on ground"
Warm and contemporary, rich and inviting
LED lights for less power consumption and for environmental reasons
It is what any global traveler would expect from a lounge and more
For travelers who expect exclusivity most especially for the premium they've paid for
Main Areas
Reception Area
As you walk through the corridor towards the lounge, an illuminated sun beam reminiscent of PAL's logo on the ceiling welcomes you to the reception area. Similar to a hotel's front desk, the new reception area gives a warm and inviting vibe. A storage area located on the left side is big enough for both coats and bags.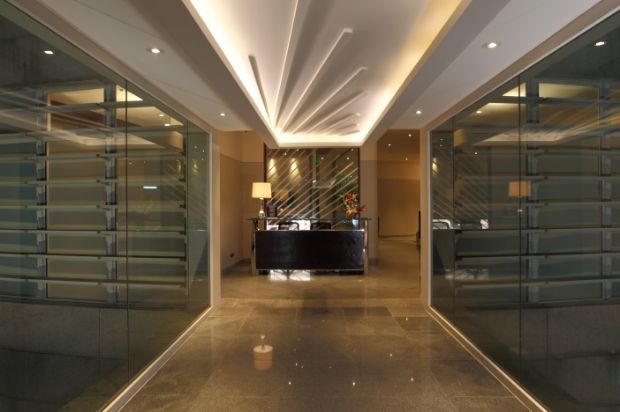 Dining Area
The new dining area with a seating capacity of 80 has been revamped and made more spacious, making it easier for passengers to move around, even with their carry-on luggage. Beige leather-covered seats add a touch of elegance to this space. The long bar table, which is great for passenger interaction has been dubbed as the most popular place for passengers. Aside from the room design, an impressive focal point which is the marble buffet table, now offers a wide selection of food specially designed by Philippine Airlines in partnership with San Miguel Purefoods Corporation.
Never go hungry at the Mabuhay Lounge
Fancy some succulent ham?
...Or some of their famous arroz caldo in a cup?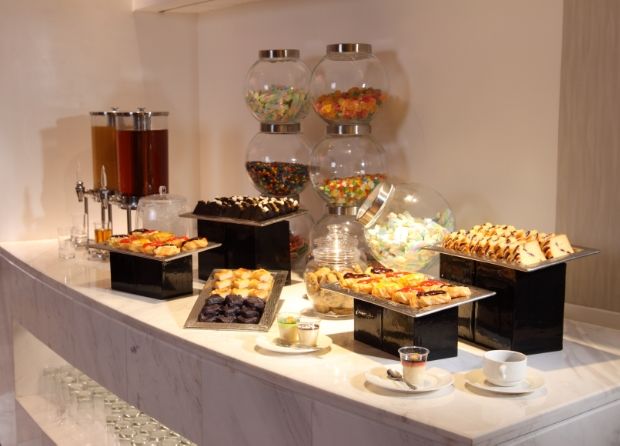 Finish it off with some sweet delights
Flights of Fancy
The main attraction of the lounge, the "Flights of Fancy" is a mini-theater that gives passengers a complete cinema experience. A concept taken from PAL's on board entertainment, the theater features aircraft-inspired chairs with leather cushions, fabric wall padding and soft lights. The theater can accommodate 24 people.
No one is ever too chill at the mini theatre
Library
For more privacy, passengers may opt to go straight to the library area located at the far end of the lounge. Sofa seats in warm brown and cream hues are perfect for comfort and relaxation. Each seat has a lamp for those who would like to read through the wide selection of magazines and books. A power source for those with laptops and other gadgets is also found in the wall panel.
Indulge in the latest travel books here
As an added feature, the lounge has been fitted with a shower stall for those who wish to freshen up while waiting for their flight. Also, a private restroom for PWD has been installed.
Asia's first airline gives us a reason to be proud Filipinos once again
Recognized as Asia's first airline, Philippine Airlines provides a wide range of flight offerings that empower customers to customize their travel experience. A global airline of choice, PAL is the country's only full-service carrier.
Anchored on the vision of the San Miguel Group, one of the Philippines' largest and most diversified conglomerates, PAL is raising the standards of passenger service to new levels of excellence through product innovations that cater to specific passenger needs, complemented by a comprehensive fleet and route network expansion.
Learn more about Philippine Airlines here http://www.philippineairlines.com/
Be a Pinoy Wanderer!
Choose Philippines encourages writers, photographers, travelers, bloggers, videographers and everyone with a heart for the Philippines to share their discoveries and travel stories.
Share Your Journey
Other Stories by Philippine Airlines